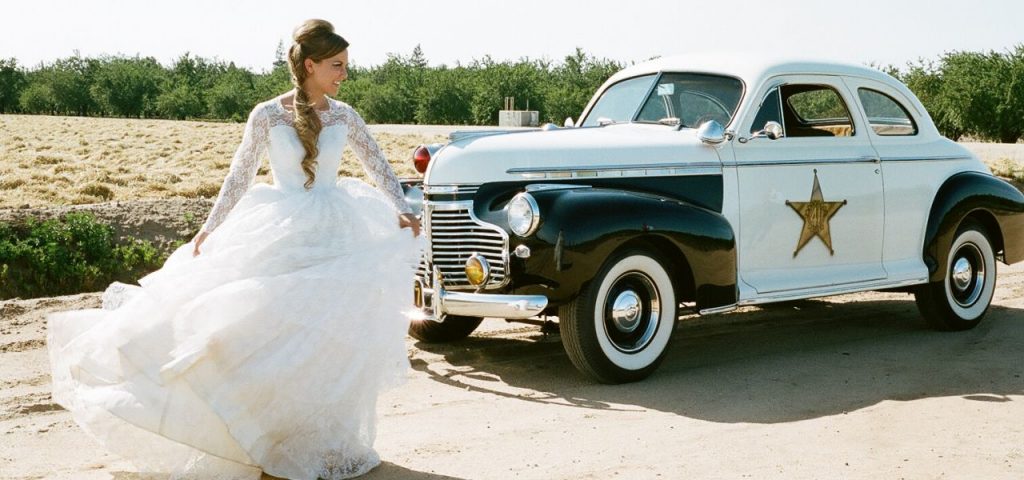 Do you remember when you were a little girl? You'd find the longest dress in your closet, throw a white pillowcase over the back of your head, and pretend that you were a bride.
A beautiful gown, the perfect hair and makeup, all eyes on you.  
There's a reason why your wedding day is considered one of the most special days of your life. It's the day when you get to be the center of attention, doted on by guests, adored by your husband-to-be, and let's not forget… the envy of all your friends.
While every detail of the wedding is important, the gown you choose will set the tone for the entire event, make your photos pop, and serve as a source of inspiration for other design decisions. Don't be surprised if your wedding cake baker asks to see photos of your dress as they may mimic the texture and details to perfectly capture your personal style. But most importantly, your gown will determine whether or not you feel your most confident throughout the day.
While entire stores are dedicated to showcasing the latest styles in bridal fashion, going the modern route isn't for everyone. If you've ever gazed longingly at photos from the past, felt like you should've been born in a different era, or just wanted to stand out and be different, going vintage on your wedding day might make your special day even more special.
Why Go Vintage
There are a variety of reasons why some brides decide to rock a vintage wedding gown when it's their time to walk down the aisle.
Be the Envy of All the Brides You Know
Let's face it ladies, as much as we don't want to admit it, it feels good when our friends are a little bit jealous. Wearing a vintage wedding gown will have all of your married friends wishing they'd thought of it, and all of your single friends hoping they meet the right person soon so they can go vintage at their wedding as well.
Be Unique
While men see it as a job well done when they end up wearing the same outfit, women would rather be caught dead than in the same dress. While you probably won't be sharing the day with multiple brides, there's a good chance that your guests have been to other weddings recently or have been planning their own.
Sure, choosing one of the "wedding gown styles of the year" will guarantee that you are fashionable, you'll also risk looking like everyone else. Choosing a vintage gown ensures that you will be unique on your wedding day. Plus, modern dresses are often inspired by vintage designs so you'll still be in style.
Look Your Absolute Best
There's a reason why women spend thousands of dollars on the dress, the hair, the makeup, and the accessories. You will be standing in front of your family, your friends, and most importantly, the partner of your dreams. You'll be looking at photos and watching videos of this day for the rest of your life. You have one day to feel like a princess (or whatever your version of a princess is)… make it count.
With so many decades and styles to choose from, you can wear whatever makes you feel the most beautiful. A properly chosen vintage gown will bring out your personality and your inner confidence so you can truly shine.
Wear a Piece of History
There's something incredibly special (and downright cool) about wearing a piece of history. A vintage wedding gown may have sat in storage for 50 years until it was found, restored, and given a new life. You have the opportunity to pay homage to times past and while you may not know who had the dress before, it's even a nod to the original bride.
Pass Down a Dress your Daughter Would be Honored to Get Married In
It seems like the perfect situation. Proud of your beautiful daughter who is all grown up and has found the man of her dreams, you offer her your wedding dress which you laundered and preserved for this very day.
This unveiling (pardon the pun) can go in one of three ways. If your dress was an off-the-rack, boring, common wedding gown from a big box store, you may end up with your feelings hurt because your daughter doesn't want to wear it. Or, she may choose to wear the dress so as not to hurt your feelings, but secretly hate it and feel resentful and sad about her wedding day.
Of course, if you chose a vintage wedding gown that was beautiful, unique, and represented a graceful time in history, you may have an excited daughter and one wedding task crossed off your to-do list.
They Don't Make Them Like They Used To
We've all heard that familiar noise… the popping of a stitch that alerts you to a tear in your clothing. Maybe it's in an inconspicuous spot. Or maybe, you're about to back out of a public place with a borrowed sweatshirt wrapped around your waist.
If you spend upwards of $5,000 on a high-end gown, you might get quality. However, lower-priced, modern-day wedding gowns are manufactured to survive one wearing and nothing more. Unfortunately, sometimes they don't even last that long. Vintage dresses were made during a time when designers and seamstresses took more pride in their work and created gowns that would hold up throughout the day and for years (and decades) to come.
Create A Theme
Most brides choose to have a theme for their wedding, but sometimes, this can be a difficult decision to make when your ceremony or venue location doesn't have an obvious direction. Choosing the vintage gown that fits your personality will help guide your thematic decisions and pull the other aspects of your event together.
Protect the Planet
Maybe your reason for going vintage is less about style and more about sustainability. If you consider yourself an eco-friendly bride, purchasing a vintage wedding gown is reuse at it's finest. You probably know that the fashion industry is the second largest polluter in the world, but did you know that one wedding gown is estimated to use 2,377 gallons of water to manufacture? Wearing a vintage gown allows you to stand up for what you believe in… while still looking super pretty on your special day.
The History of the Wedding Dress
After months of searching for the perfect wedding dress (not to mention seeing it depicted in the media), it's easy to think that gowns have always been white. After all, when you picture a wedding dress in your head, chances are you see a long, flowy, white symbol of "innocence and purity."
Believe it or not, white hasn't always been the go-to color for a bride's special day! In fact, since white was considered nearly impossible to keep clean, it was a sign of extreme wealth with most women wearing colored dresses like red, yellow, green, and grey. Many brides chose the color blue because it was the symbol of purity in those days. The popularity of the white wedding gown didn't rise until Queen Victoria and Prince Albert of Saxe wed in London on February 10, 1840. White was the perfect color to highlight the handmade lace gown that Victoria chose to wear.
From there, women's magazines described the look as "innocent and simple," and it became the norm. Wealthy women of high status throughout Europe and America followed Victoria's lead and chose white as their wedding gown color. The average bride throughout much of the 19th century, wore her best dress on her wedding day, no matter what the color.
This wasn't the last time that practicality and the norms of the time factored into wedding gown styles. We'll soon review vintage wedding gown styles throughout the decades. But first, take this quiz to help determine your style.
Vintage styes
Let's take a look at how wedding fashion has changed through the years and how you can wear your favorite vintage wedding gown style today to achieve a traditional or modern look by adding accessories.
1930's
The Great Depression took its toll on every aspect of living during those years… including the wedding industry. Many brides chose to wear the nicest dress in their wardrobe rather than spending excess money. For those that opted to purchase a new dress, gowns were simple and lady-like, and sometimes made from rayon rather than silk as it was more affordable. Styles included figure-skimming silhouettes, high necklines, and long sleeves inspired by Hollywood glamour. Dresses featured small trains and minimal ornamental designs. Brides frequently opted for hats instead of traditional veils.
For a Traditional Look
Select a very long, dramatic sheer (sometimes silk) tulle veil with a headband of cloche style headpiece attached. You can also decorate the veil with white flowers.
Choose Ivory Oxfords for your shoes.
For short-sleeved dresses, don a pair of opera-length gloves that matches the dress.
For cooler weather, pair your dress with a vintage fur from the 30's.
Have your hair and makeup styled like your favorite 1930's starlet. (insert Pinterest board here)
Keep jewelry simple with pearl earrings or tiny rhinestones.
Carry a huge white bouquet of trailing Gardenias, roses, and lilies like Lily of the Valley, Easter Lilies and Calla lilies, all with lots of greenery. The more fragrant the better.
For a Modern Look
Veils symbolize modesty, obedience, and chastity. In a religious context, it's seen as a symbol of reverence for women to cover their heads. If you aren't comfortable communicating this on your wedding day, you may want to opt for a rhinestone headband, tiara, or clips (depending on your style and the style of your gown), instead.
Lilies are now regarded as a funeral flower. Choose a modern, colorful bouquet that goes well with your wedding theme and decor instead.
Craft or purchase a brooch bouquet made from vintage pins.
Select a statement necklace, like a stunning vintage rhinestone necklace with multiple strands and a cool design.
Pair with modern, sexy strappy sandals.
For chilly weather, pair with a shawl or fur from any era. Or a modern capelet with sequins or rhinestones.
Choose a modern hairstyle that gives a nod to the past. (insert Pinterest board here)
1940's
As many brides saw their husbands off to war in the early 1940's, wedding planning took a backseat. Brides often chose formal pieces already in their wardrobe or borrowed a gown. . Wedding gowns became a bit more casual and often fell higher on the leg. The popularity of slim-fit dresses continued along with high necklines and long sleeves.
When Christian Dior's first collection, "New Look" debuted in 1947, he introduced fashion with rounded shoulders, a cinched waist, and a full skirt. This style transferred over into wedding style, highlighting ultra-femininity.
For a Traditional Look
If you're doing a simple elopement and want a very traditional look, choose an ivory, pink, or baby blue skirt suit. That is what most brides (including my grandmother) wore to get married at the courthouse. Nowadays there are multiple options for beautiful elopements (Insert my photography elopement guide here) where you'll be happy to wear a traditional 40's wedding gown.
Veils were getting shorter than the 30's, reaching the bride's elbows. Some brides still wore long veils for formal church ceremonies. Often the top of the veil was decorated in flowers, pearls, or rhinestones.
Traditional hairstyles consisted of coifed hair in victory rolls, tight curls, or meticulous waves. (Insert Pinterest board here)
Brides carried more simple bouquets. Gardenias and Orchids were popular. Sometimes wildflowers were used. Wealthier brides carried bouquets similar to the 30's for their formal weddings, with additions of pearls intertwined and/or placed inside flowers. Sometimes paper bouquets were used.
Makeup was red lips and black cat eyeliner.
Jewelry was still understated and shoes were still simple oxfords.
A 1940's fur will keep you warm at night.
For a Modern Look
Instead of a veil, wear a birdcage headpiece to give a nod to the era. If you want to skip a headpiece, put some rhinestone combs or clips in your hair.
Wear sexy strappy sandals or pointed stiletto heels.
Wear your hair in a modern style that gives a nod to the era. (insert Pinterest board here)
Frost yourself in rhinestones! Wear a chunky rhinestone necklace, bracelet, or earrings. Or all of the above for a super glam look.
Carry a modern bouquet.
Switch up the makeup with a bold smoky eye and nude lip.
1950's
With the full skirt of the late 1940's still in fashion, brides began flocking towards romantic and femine ball gowns with scooped necklines and off-the-shoulder collars. Fingerless bridal gloves were a staple of this style, often made of tille, lace, or satin. Even women who were normally clothed in more sporty, casual outfits, desired a more formal "princess" look on their wedding day. For many brides, long, lavish trains were hooked on for the church service and then removed for the reception.
In the late 1950's, brides began to rebel against the high-necked, long-sleeved dresses of previous years with a more "risque" strapless dress. The 1950's style continues to be prevalent in today's fashion making it one of the easiest eras to incorporate into your wedding day.
For a Traditional Look
Opt for a shorter veil ending at the elbow or shoulder.
Add short white gloves.
Carry a bouquet of carnations and daisies with frills of telle or order Hawaiian Cattleya orchids
For a Modern Look
Wear a birdcage veil or a fascinator (a large decorative design attached to a band or clip)
Pair it with vintage rhinestone earrings and if the neckline allows, a rhinestone or pearl necklace
Ask family members for a vintage ring to wear as your "something old" and "something borrowed
Wear pointed patent leather stiletto heels
Anything goes when it comes to your hair. You can wear it down in waves, up in a classic 50's style, or choose a modern style that suits your face
Choose a bouquet of roses
1960's
Much like the counterculture revolution of the 60's, the wedding gown industry saw a style upheaval. Where-as the previous decade saw ball gowns, modern brides of the 60's were wearing slimmer-fitting column dresses, and above-the-knee (or just below) hems in a nod to mini skirts. The 60's could truly be described as the "anything goes" era in both culture and bridal fashion.
Colorful dresses made popular by Elizabeth Taylor showed a departure from the required "bridal white" gowns. Other trends included mutton sleeves, formal coat dresses, and mod, straight silhouettes and boat necklines. Some brides opted for dashing off to Vegas to tie the knot wearing short mini dresses and fitted cloche hats.
With the hippie movement sweeping the nation, some brides chose long, flowing, Boho style wedding dresses and simple flowers adorning their hair.
For a Traditional Look
Select a domed pill-box hat with a bouffant veil
Have your hair done as a beehive or ratted flip style
For a Modern Look 
Your dress and theme should complement one another. Post-modern styles are quite popular now and work well with modern weddings of the same style. A Vegas-esque dress works well for a casual backyard wedding or elopement.
Pair your dress with modern jewelry and shoes
Pass on a hat or veil
Skip the beehive and wear a modern hairstyle
1970's
Once again, Christian Dior changed the face of bridal fashion with "big sleeves with a puff at the elbow," and brides couldn't get enough. Bohemian style made its way onto the scene with long, flowy sleeves for a more feminine and eclectic look. Hemlines were often long and skirts had lots of sheer layers. Flowing cotton dresses furthered the ethereal look. To showcase peasant-style, brides skipped veils and opted for hair ribbons instead.
For a Traditional Look
Style your hair in loose buns for a nod to the women of Victorian times or find a large hat. You can also carry a parasol as many brides did.
If you like a "free love" style, wear your hair down and naturally with flowers weaved throughout it or a wreath of flowers as a crown.
Choose a bouquet of roses for a Victorian look, or bunches of wildflowers for a casual affair.
For a Modern Look 
Boho is THE most popular style of wedding dress right now, so a dress from the 70's fits right into modern styling.
Pair your dress with a large, bushy bouquet full of exotic flowers like orchids and succulents. Or carry a bunch of wildflowers.
Style your hair in big, beautiful loose braids down your back or over your shoulder and add wildflowers to the braid, or top your long loose locks with a flower wreath.
Load up your fingers with delicate gold bands and rings with small semi-precious stones like turquoise, citrine, moonstones, opals, etc.
Add layers of delicate gold chains and pendants and simple earrings.
Layer a knitted shawl over your shoulders for chilly weather.
1980's
The 1980's wedding gown style matched the hair of that decade… big! Dresses included puffed or flowing sleeves, oversized skirts, cathedral trains and full-length veils. The wedding of Prince Charles and Princess Diana in 1981 made many brides strive for a "princess" look on their special day with lace trimmings and frills.
The decade also saw strapless dresses as a fashion trend for bridal wear.
How to Incorporate a Vintage Wedding Dress Into Your Wedding
Just because you've chosen a vintage wedding gown doesn't mean that your entire event has to be themed around that era. There are a variety of ways that you can incorporate the vintage wedding gown of your dreams, while still having a modern wedding. Here are a few suggestions to add a hint of vintage glamor without going overboard:
For the Venue or Event Space
Every current modern style is based on SOMETHING from the past. Look for modern decor styles and pieces that are inspired by the era you are wearing.
Diversify your decor. Mix in eclectic vintage furniture, decor, table settings, etc. If you're wearing a 50's gown, mix 50's decor and details in with modern decor. OR you can be really eclectic and mix up your decor with vintage pieces throughout the decade. Don't be afraid to mix eras. Mix chairs, dinnerware, etc. Use lace or other vintage table linens.
Add a monogram to your wedding invitations, napkins, centerpieces, etc. Monograms were all the rage in vintage eras, yet they look modern.
Vintage-inspired invitation suite: gold accents, calligraphy
Add glam chandeliers or candelabras to decorate the reception space.
Bring in fun vintage touches like an old typewriter for guests to type notes, or a record player spinning old records during cocktail hour.
Choose a song from the era you are wearing for your bride and groom first dance, or have vintage music all day/night.
Rent or borrow a vintage car to drive you to the ceremony, reception, etc
Food and Beverage
Serve retro cocktails, appetizers, desserts, etc. Give a nod to the era you are wearing by pairing fun, retro recipes.
Have a vintage champagne toast with traditional-shaped champagne glasses (the round ones, not the flutes)
Your Outfit and Wedding Party
Pair your dress with modern accessories (jewelry, veil, shoes, etc), and modern hair and makeup.
Showcase heirloom jewelry: ask mom, aunt, grandma, or anyone else in the family, for "something borrowed".
Choose flowers that go well with the era you are wearing. Think of a dramatically long armful of calla lilies for your 30's dress, carnations and daisies with loads of Tulle for a 50's look, a loose gathering of wildflowers to compliment your vintage dress from the 70's or a tear-drop or waterfall-shaped cascade bouquets like Princess Diana carried in the 80's.
Highlight Family Traditions
Use your parents' table settings, serve the same menu as your parents, make favors that are personal to your family.
Use your parents' vintage cake topper, or find one from the era you are celebrating. (Etsy is a great source of these).
Where Can You Buy the Perfect Dress
What happens when you drag your family and friends, AND your fiancee's family and friends from bridal shop to bridal shop? Wedding dress shopping can be exhausting (both physically and emotionally).
If you already know that you'll be looking for a vintage gown, your cushy shopping experience in bridal boutiques now looks more like scouring antique stores and second-hand clothing shops for "the one." You may not have the time, the energy, or even the access to a big metro city for your search. Plus, during our current pandemic, you may not even feel comfortable doing in-person shopping and potentially exposing yourself to COVID-19.
Shopping online opens you up to a much larger pool of dresses, but without knowing where they're coming from, the quality isn't guaranteed. Are they irreparably stained, or rotted? Are there rips or tears that can't be mended? How much work (and money) will you have to put into the dress to restore it to its original beauty? Not to mention, you are buying a dress sight-unseen and un-tried on… for the most important day of your life!
Thankfully, there's a better way.
The Vintage Eclectic is an online clothing store created by two vintage-loving ladies with a passion for making women feel beautiful and included, regardless of size, shape, height, skin color, or walk of life. As a green company, we believe in recycling old clothing to give it a new life instead of polluting our environment further with dyes and chemicals, using up more resources, and contributing to our already overtaxed landfills. There are beautiful pieces available and with a little tlc, they can be enjoyed by a whole new generation.
Co-founder Dawn Kelly has worked as a professional wedding photographer since 2005… she knows wedding gowns and knows what will look good on each bride. That's why every bridal gown customer receives a 30-minute consultation to find the right style and the right dress. Using the answers you've provided in the quiz above, photos you supply, and a conversation about what parts of your body you love and which ones you'd rather not showcase, Dawn will help you find the perfect vintage gown for your wedding day. We've got a large variety of gowns in stock in a multitude of sizes and in a variety of price ranges, however, if we don't have the perfect dress, we'll look for it.
The Vintage Eclectic understands that ultimately, your gown will be on you – a real person – not a mannequin. That's why we use real models for all of our dresses, allowing you to see how it hangs on an actual body. We're also proud of our Photoshop-free policy. Every woman is beautiful in her uniqueness and her flaws. We choose to celebrate them rather than hiding them. To further the empowerment of our fellow female warriors, we donate 3% of our profits to The National Coalition Against Domestic Violence.
Wearing a vintage wedding gown from The Vintage Eclectic on your special day is not just a way to let your personality shine through, it's a way to stand up for what you believe in. Allow us to help you feel beautiful, powerful, and loved on your wedding day. Schedule your free consultation today and make your wedding day memorable.