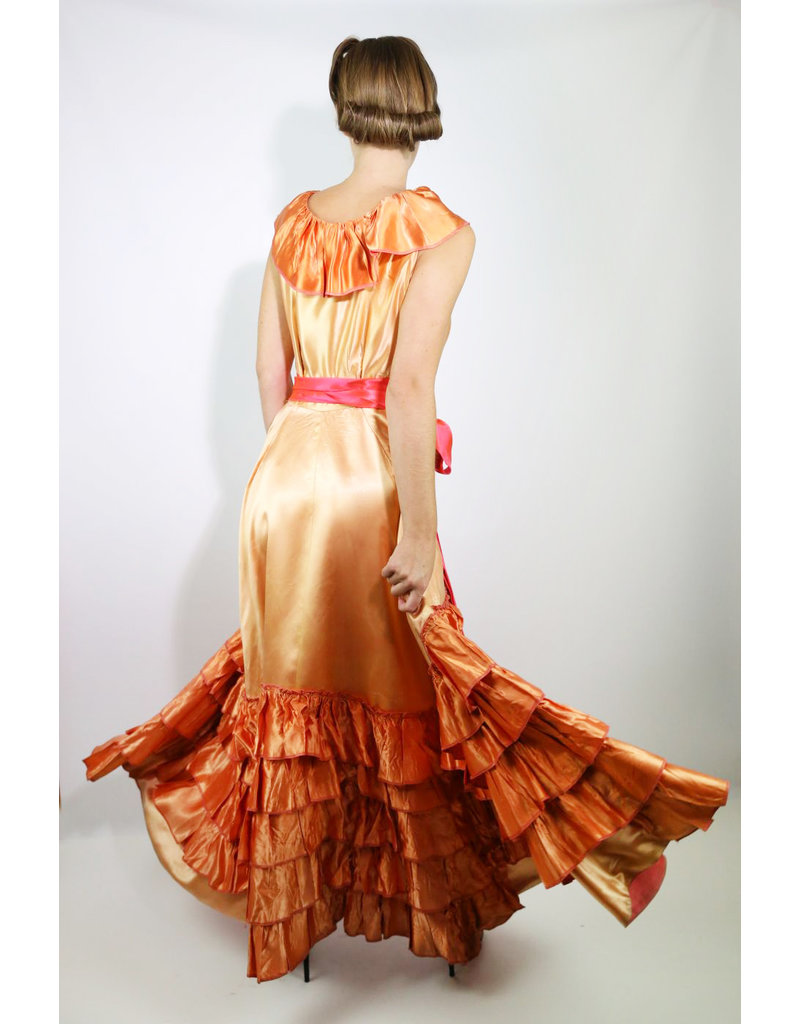 "A Time Of Controversy"
Mayor Fiorello La Guardia had just thrown the Burlesque world into a tailspin. It was the year 1939. New York City's La Guardia officially banned burlesque from the big apple.
Seen as a corrupting moral influence, La Guardia prohibited the use of the words "Striptease" and "Burlesque" from even being used in conjunction with clubs or theaters. His attack on the burlesque world didn't end there. He ensured that the renowned chain of theaters in the city was shut down.
In response to La Guardia's prevailing influence on the times, many states followed suit. Burlesque's reputation in America was a provocative game, where only the brave would play.
"Challenge Accepted"
What's a girl to do years later when they find themselves destined for the dance and show? Well, if you are like one daring girl, you keep dancing; you raise some hell.
They say her name was Anne, but much of her true identity remains hidden in the shadows.
Anne blazed her trail through a sea of controversy. She danced on the sin strip of Hammond, Indiana, which Life Magazine had once referred to it as "the Barbary Coast of the Midwest."
"Daring to Be Different"
Anne stood by her dreams and the right to be her own person. Even though her family was scandalized by her profession, Anne pressed on.
In response to their disapproval, Anne refused to speak to her family but in the German tongue. Doesn't sound too shocking, right? Only, no one could understand a word of what she said.
Anne continued her mission to ignite the stage with her fiery presence and began enlisting the help of a team of highly skilled seamstresses. Together, the team created one of a kind costumes for her.
Upon her death, Anne left her beloved dresses in the care of a well- respected vintage collector in Chicago. Her dresses resided there for many years.
"The Next Chapter"
One day while Dawn and I were sourcing vintage clothing in Chicago we came upon an astonishing sight. There hanging from a scaling wall was a dress, unlike anything we had seen before. It was Anne's.
Anne's dress was adorned with breathtaking sunset-colored ruffles. It had such incredible sway it looked like a chariot of fire. We could not look away.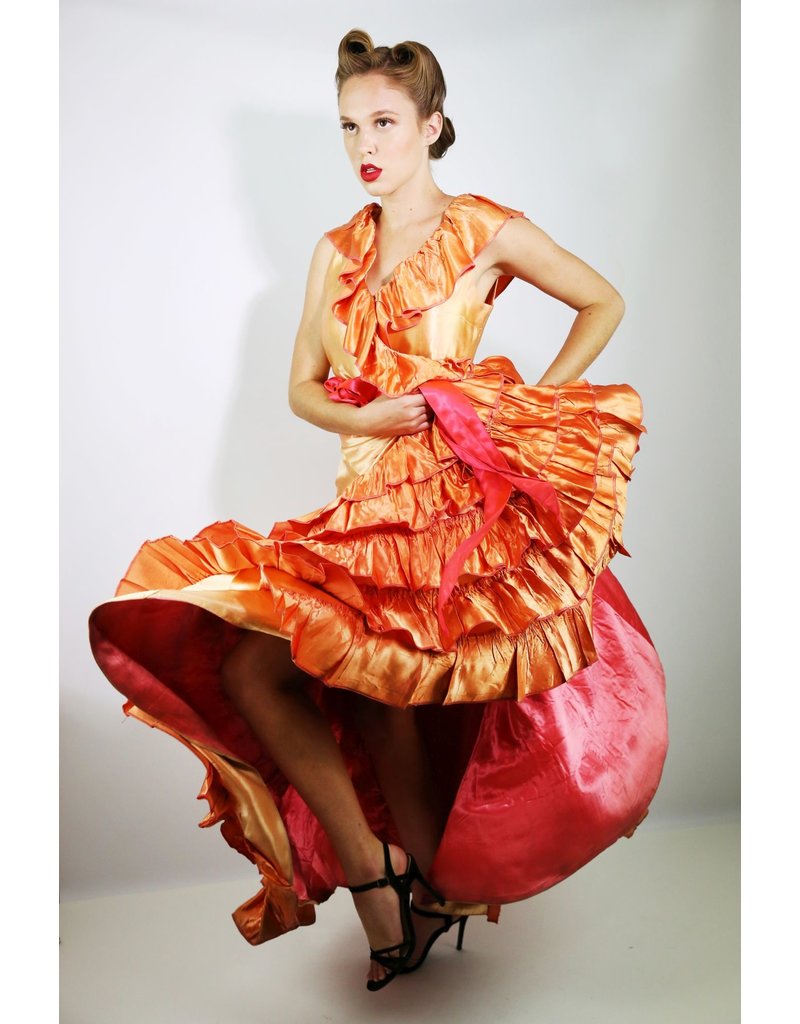 That moment, the dress seemed to announce itself, that it was time to come home to The Vintage Eclectic. As we grasped the beautiful fabric in our hands, we could see how well-loved it was, its hem had danced upon many stages.
Carrie Shea, a beloved seamstress friend, lovingly restored each ruffle by hand. Dawn and I joined her in the restoration of this timeless vintage gem. We washed Anne's dress and tirelessly scrubbed its hem until the faded edges became vibrant again.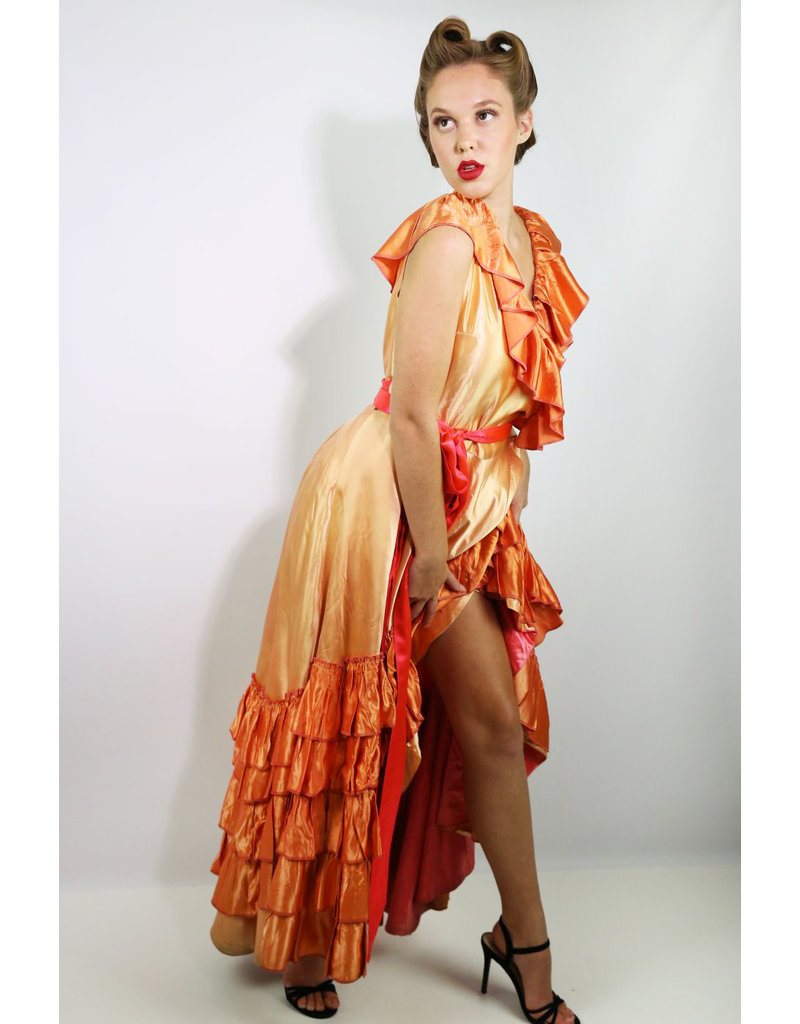 "A moment Of Reflection"
Through this gorgeous one-of-a-kind burlesque vintage dress, we celebrate the life of a dancing pioneer who paved the way for the others who are still here today. I know Dita Von Teese would thank her.
Photos by Dawn Kelly Photography.