If you've never worn vintage before, you're probably wondering where to start. You're thinking, "What if I don't have the right shoes to wear with this?" or "How can I pull that off?" The great thing about fashion in 2020 is that rigid rules about how to wear styles are a thing of the past. All you have to do is walk through the streets of big cities like Los Angeles and New York to see what I mean.
Fashion should be about showing off your personality while being your fiercest self, without feeling self-conscious or like you're not "cool" enough. When I was a kid, I dug through my mom's old clothes to find something different. I loved putting on outfits that screamed, "I'm unique!" My bullies felt differently about it, calling me weird, stupid, ugly, and dog. (Kids are so creative, aren't they?)
It wasn't until I was in my thirties that I felt confident enough to wear whatever I wanted without giving a crap about what others thought of me. If someone turned to look at me because I was wearing something unique, I saw it as a compliment.
As I work on our style guide, all these things are coming into my mind. Here at The Vintage Eclectic, our mission is to empower you and help you feel like you can wear anything!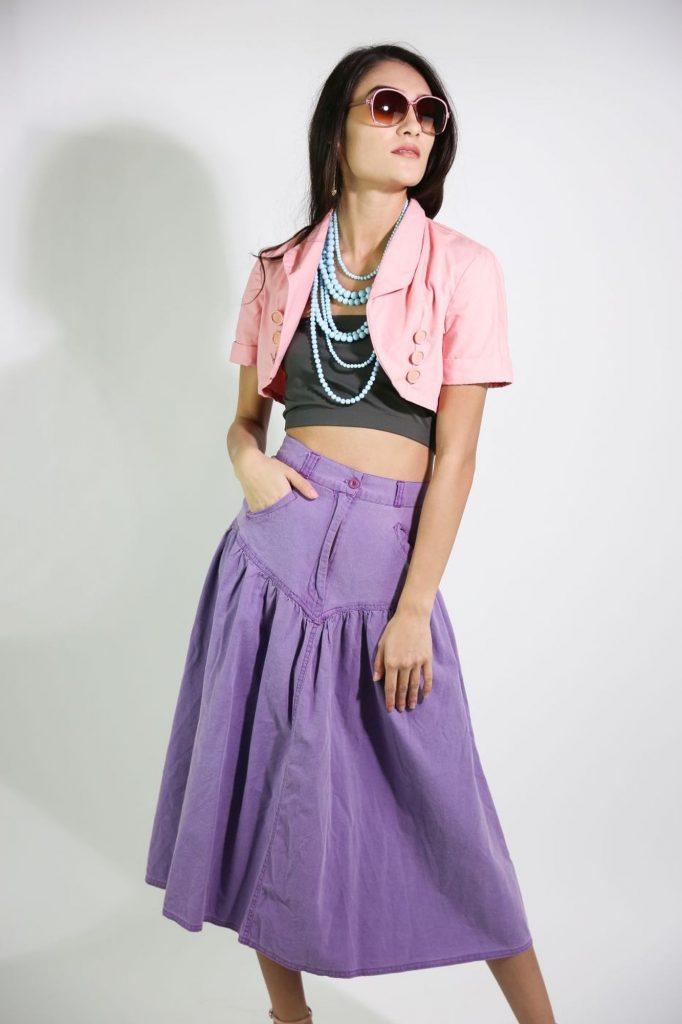 Enter mixing vintage eras!
It's very easy to mix and match vintage pieces, especially when eras are influenced by each other. In the above look, Angel is wearing a 80's skirt, a modern tube top, a 40's cropped jacket, 80's sunglasses, and 80's beads. It worked perfectly because the color combination is complimentary, and the styles are all reminiscent of the 80's.
Much of the style from the 80's was influenced by the 40's. You can see that by comparing these two groupings of photos.
1940's Styles: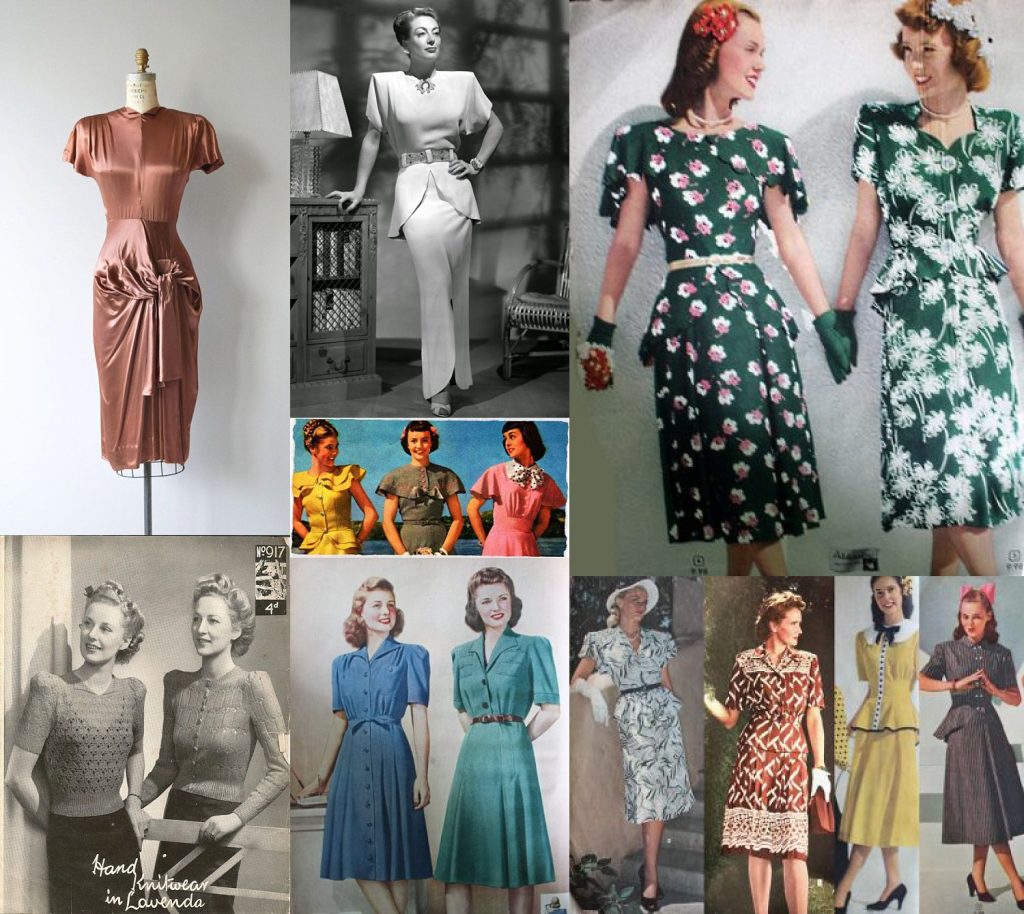 The 40's gave birth to the "power suit." It was a time of turmoil and uncertainty as WWII was being fought oversees and women had to take the business world by the horns. Factories were full of working women who were supporting the war, most working outside the home for the first time. Many women took over office jobs, restaurant jobs, hotel jobs, and much more. In previous generations, women were expected to stay home and raise families. Suddenly, there was no choice. Thus a strong time in "Woman's Liberation."
1980's Styles: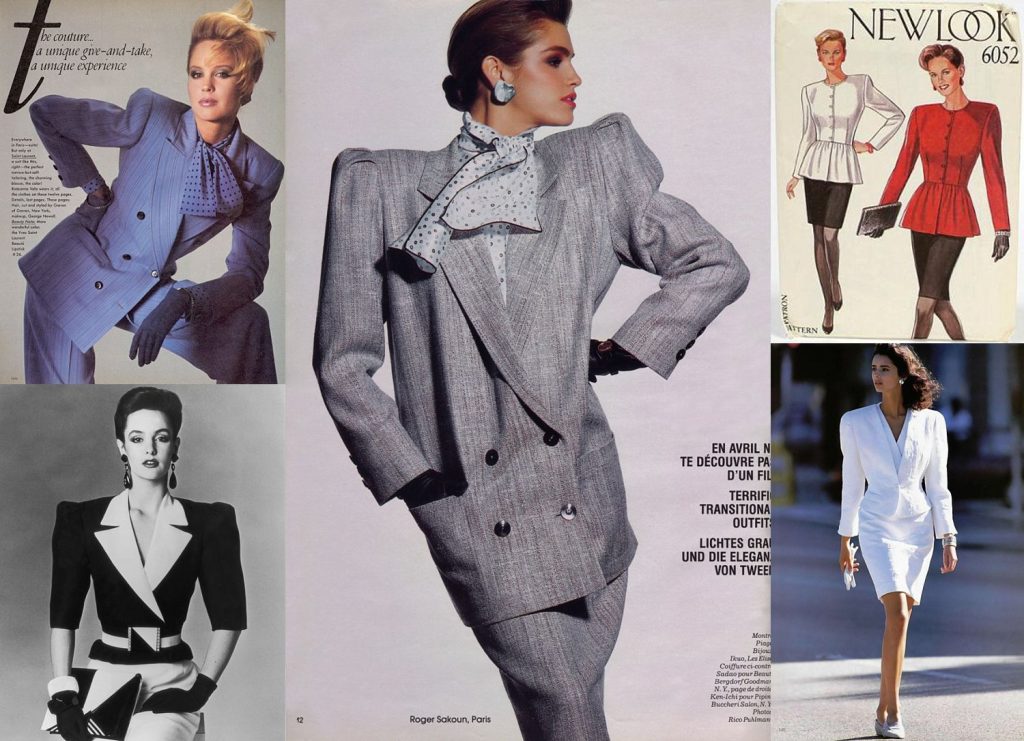 Anyone who grew up in the 80's remembers the strength of the "Women's Liberation" movement during that time. Ronald Regan, with his sexist views, was elected president in 1980. He released a statement saying that the unemployment problem could be solved if selfish women would stop taking jobs away from men.
Women didn't like that much. There were rallies held around the country, and women were more determined than ever. They were entering Wall Street, walking the city streets next to men, feeling confident in their power suits. Fashion designers were inspired by the power women of the 40's. Notice the huge shoulder pads, cinched waist, and peplum details.
You'll also see inspiration from the 40's with draping and sweater design, which was prevalent among ready-to-wear runways in the 80's.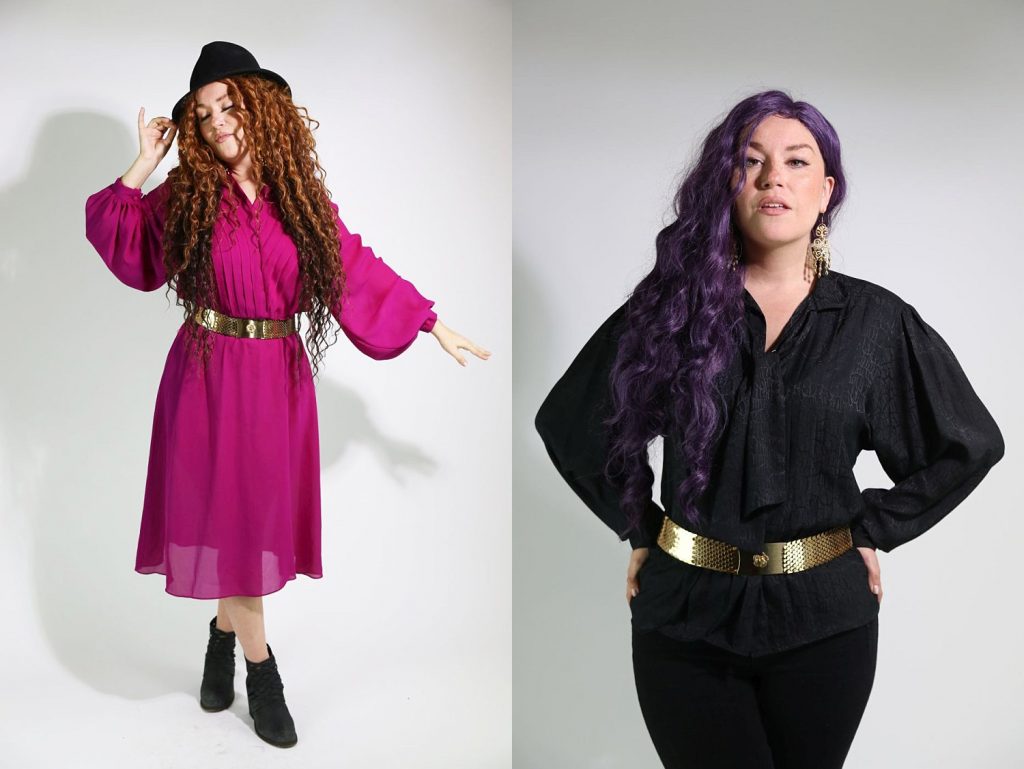 Accessories
The easiest way to play with this fashion theory is to mix and match accessories. In the above look, Summer is wearing 80's clothing with a 40's belt. Do you remember the gold belt trend from the 80's? I do because I had one!
Shoes of the 80's were also inspired by 40's fashion. Women's pump styles were borrowed and the patriotism of red, white, and blue returned with a vengeance. Men filled their closets with wingtip shoes in brown or black, a staple throughout the 40's and 50's for business men. Women even started wearing wingtip oxfords and dressing in more masculine styles with over-sized blazers, slacks, and neckties.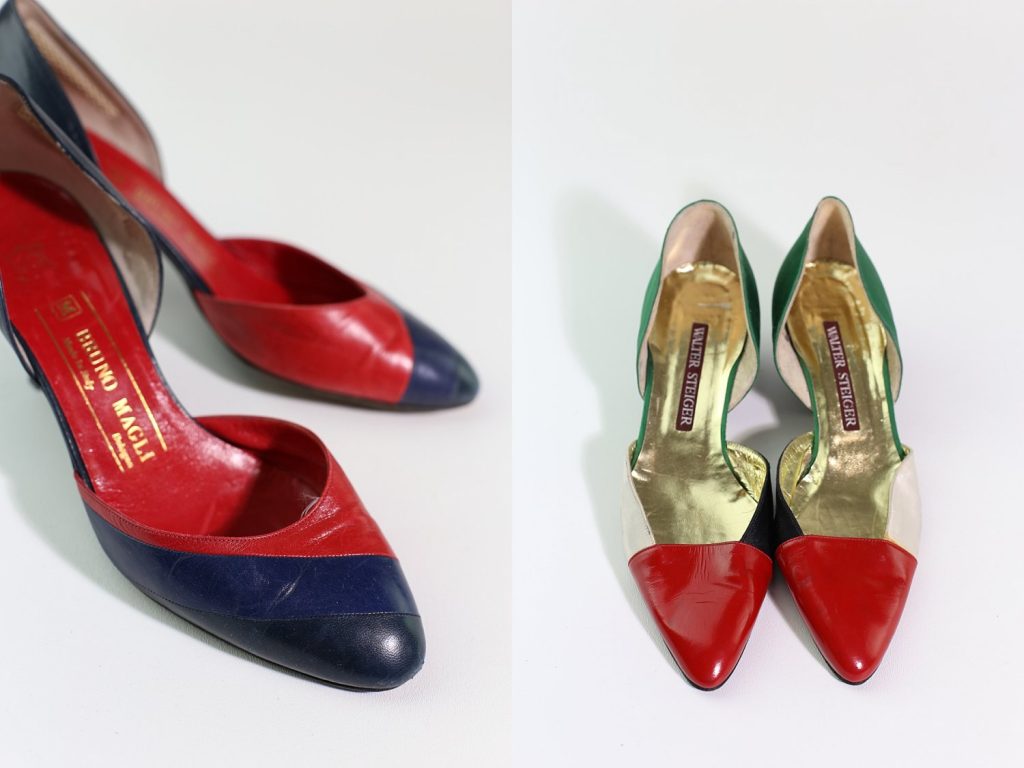 Other Eras
Today we talked about the 40's and the 80's, but you can mix vintage from any era! A 70's shirt tied at the waist with 80's jeans is fierce. A 50's dress with a 90's sweater was a staple for me in the 90's. I found my dresses at Good Will and my sweaters at Ross. A sleek 50's black dress is beautiful under a Victorian cape (pictured below).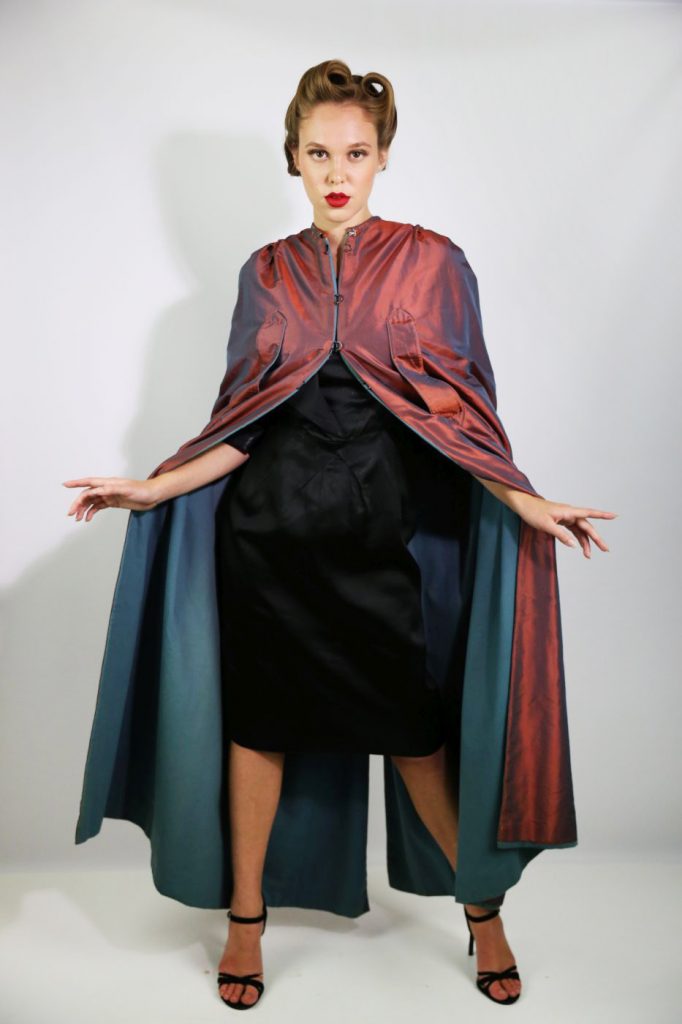 What does this mean for you?
The point is, it's YOUR style, so wear it with confidence, free of other people's rules. Try things on by yourself to play with different eras. Pull out your vintage pieces, along with some modern pieces. Put things together that you normally never would. Push yourself to expand your style and be unique. Then, just be the badass you are!